TruEYE surView
Curated exhibition and catalog.
16.06.2011-21.08.2011
W139, Amsterdam
With Anne de Vries (NL) and Yngve Holen (NO). 
Part of my ongoing project Post Internet Survival Guide.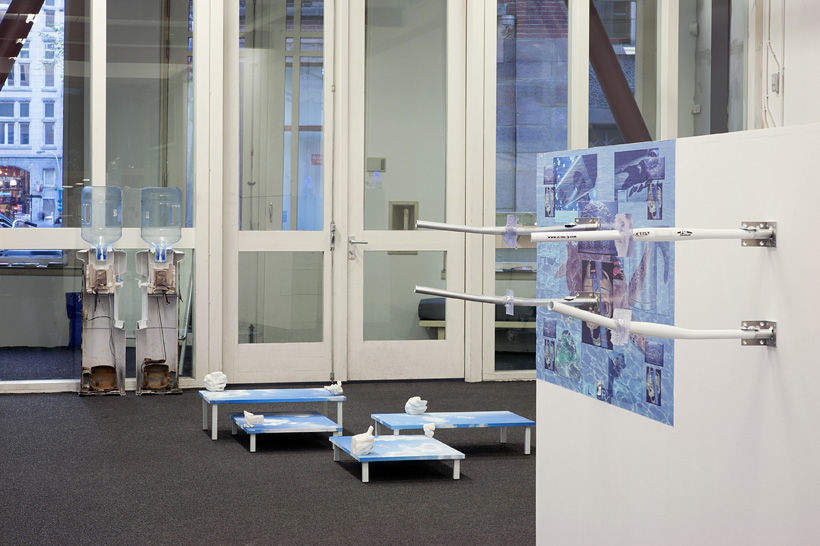 YNGVE HOLEN / ANNE DE VRIES
Curatorial statement
[Appears unchanged as 'Introduction: living matters' in TruEYE surView catalog. First written for http://w139.nl/en/article/19985/trueye-surview/.]
TruEYE surView is part of a series of exhibitions conceptually related to the theme of Post Internet Survival Guide, a catalogue-book published by Revolver Publishing in early 2011. Through online archives of works by young 'digital native' artists, I attempted to register survival strategies and tools crucial to us today, to re-imagine the very idea of survival and evolution at the dawn of bio-information technologies.
Instigated by the discussions around Post Internet Survival Guide, TruEYE surView presents Anne de Vries (NL) and Yngve Holen (NO/DE), two artists whose works share a common sensitivity to the merging of matter and information. Both artists work with a variety of means, including photography, installation, video and sculpture. As illustrated by an installation based on a smart fridge cut in pieces by a waterjet-knife (Holen), or a photograph of a naked woman with a mobile phone standing on her knees in a Cartesian coordinate system (de Vries), their practices address our increasing entanglement with technology – its material and symbolic origins, its influence on our sense of social reality, its socio-political implications and its future potentials.
From the mines, energy plants and factories, where the hardware basis of information technologies comes to being, to brand names, advertising images, product displays, personal use, and ultimately piles of toxic waste – commodities undergo a variety of state changes throughout complex ecological cycles. Considering that what lies at the heart of every living being is genetic information, we are approaching an uncanny valley where life and technology co-exist in a blurry commonality of their informational origin and material essence, each propagating an agenda of their own. Neolithic agricultural revolution for instance, can be seen not as an invention – a new human technology – but a state change, a result of co-evolutionary development between humans and edible grasses. In this process of the collaborative deforestation of land only some benefits were shared by humans. If we can look at the spread of Internet of Things as equivalent to the Neolithic agrarian revolution, then what is information technology's relationship with us as species? What does it take for a commodity to be alive, and what are the ecological principles of art?
Curating this exhibition is a next step in approaching a 'neo-materialistic' understanding of contemporary art as a domain of a heightened density of value flows, and information technologies as an expanding ecology. In TruEYE surView Anne de Vries and Yngve Holen are merging these domains in fluid assemblages, proposing visionary semi-stable structures out of material flows that are constitutive of today's digital data-driven society.
TruEYE surView catalog
.pdf version available http://w139.nl/files/truEYEsurView.pdf
Texts by Karen Archey/Anne de Vries, Martin Jaeggi, Joshua Simon and Timur Si-Qin.
48 pages. Printed edition 100 copies.
ISBN: 978-90-817892-0-2
Edited and designed by Katja Novitskova.
Printed version of the publication available on request only.
TruEye SurView catalog launch, W139